East High School


Class Of 1971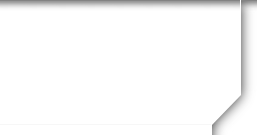 In Memory
EHS Faculty: Weldon Merle Hyer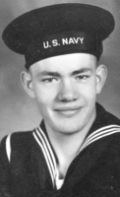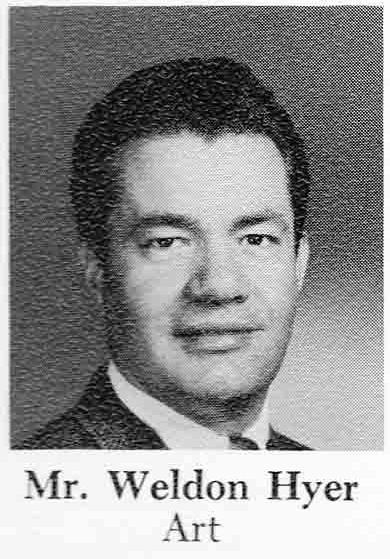 Weldon Merle Hyer, passed away peacefully June 10, 2012, returning to his Heavenly Father and into the arms of his loving parents.
Weldon was born August 4, 1925 at home in Lewiston, Utah, to Merle Gilbert and Verna Porter Hyer. He grew up on the family farm where, during much of his youth, he helped to care for the many responsibilities involved in farming. After graduating from North Cache High School, he was drafted into the U.S. Navy during World War II.

A Seaman First Class, he served two and a half years as an aviation radioman and an aerial gunner. Shortly after his discharge from the military, he was called to serve and filled a Latter-day Saint mission to the Central Atlantic States in 1948. While attending Utah State Agricultural College in Logan, Utah (currently Utah State University), he maored in art education and participated extensively in theatrical activities, was a member of the honorary scholastic fraternity Phi Kappa Phi and of the social fraternity Signa Pi.
Weldon was extremely supportive of the arts throughout his life. A faculty member at East High School in Salt Lake City, Utah, he taught art and art history for over thirty years. He also served as the school's stage manager, arranging many programs for various groups. One of his favorite projects was to organize an art collection for the school. For many years Weldon also served as a judge for the art exhibits at the Utah State Fair. As a gifted artist, he painted many original oil landscapes. Several paintings featured the mountains and areas of the Salt Lake Valley. He enjoyed attending performances of theatrical plays, operas, musicals, and dancing at Pioneer Memorial Theatre and Kingsbury Hall at the University of Utah and the Utah Symphony Orchestra at Abravanel Hall in Salt Lake City. He also participated as a dancer with the Ririe-Woodbury Dance Company.
During the summer months, Weldon traveled widely to various areas of the world where he gathered information on art history and culture to teach his classes. He has toured all fifty of the United States, Canada and Mexico, and sailed the Panama Canal. He traveled throughout Europe, the Mid-east, finding the Holy Land extremely interesting. Weldon also toured Asia and northern Africa. Another journey found him in New Zealand and Australia. One of his favorite excursions took him to the Polynesian Island area.
Weldon was a faithful member of the Church of Jesus Christ of Latter-day Saints, serving in several capacities as well as a Home Teacher for many years. He was always willing to help anyone needing assistance.
Weldon was the second child of six and is survived by his brothers Rey (Verla), Howard (Marilyn), Cleve (Elaine), and sister Lucile. He was preceded in death by his parents and oldest brother Robert (Helen).
©Deseret News, June 13, 2012